Life is full of magic moments.
I was super excited to see this link-up over at Shell's
Things I Can't Say
.
She always has the best link-ups... she did the
Rockin' the Bump
and
Rockin' the Baby
ones.
I loved participating in those!
I enjoy looking through old photos when I am feeling scattered... it really grounds me.
I've been having a tough time lately getting back into the swing of momming...
school starting hasn't helped as I thought it would.
It was hard to narrow down my choices so I picked several... some you've seen before.
The process of going through these has helped me to see...
to know
...
that my life as a mom has been
full
of magic moments.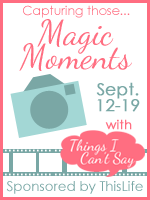 I've chosen to share the magic of traveling with my children...
A window seat and a good book...
with Sicilian citrus orchards in the background... hard to get more magical :)
Baby X, Villa Praiola 2006
Sharing a sweet moment with a two-year old...
in a crowded line to go up the Eiffel Tower.
with Miss C, Paris 2011
On the way to an old castle...
Big G, Varenna 2002
The magic of gravel in a cemetery...
Big G, St.-Paul-de-Vence 2002
Big G, Florence 2003
~*~
Loving the feel of the wind in his hair :)
Big G, Lago di Como 2001
~*~
The magic of motherhood...
with my children, Villefranche-sur-mer 2002
Link up your magic moments :)
****************************************
My husband is an amazing photographer. He took all of these pictures except the first one (I got super lucky with my crappy point-n-shoot). If you would like to see more of his work, there is a link in the sidebar to his photoblog...
Seeing In 4D
. Check it out :)