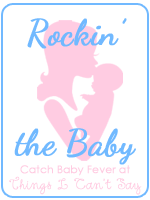 I loved showing my baby belly pictures in the
Rockin' the Bump
link-up, so I am joining up with Shell over at
Things I Can't Say
again for her new one called
Rockin' the Baby
!
Some of my favorite baby pictures that have not yet made it on the blog can now be seen :)
Truly my favorite mom picture...
me with Baby X and Big G.
The two that follow are, believe it or not, different kids...
Big G
Baby X
Love this one of Big G on the plane to New Zealand...
the one and only time he slept through the night in his first year.
Big G rockin' the shades...
And finally, my magic baby...
all smiles...
and also serious.
I would love to go on and on and on...
but I'll spare you today and save the rest for other posts :)
I have posted some of my favorite baby pictures already... Miss C was born in the caul... you can see that by clicking
here
. It is a bit graphic, so consider yourself warned! And for each of the children's birthdays, I have posted a tribute in both words and photos...
Q-Man
,
Miss C
, and
Baby X
... Big G hasn't had a birthday in ages... at least, not since I began blogging...so there isn't one for him yet.
Mother's Day
featured my favorite newborn pics of me with each of the kids, and
Father's Day
showed my husband with them
. Additionally, our family tradition of photographing the babes as overhead luggage can be seen
here
. Now I have inundated you with baby pictures!